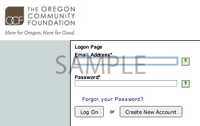 Login to Electronic Application (this will take you to a new site with the Oregon Community Foundation logo)
Directions:
Once you are there, if you have previously applied to the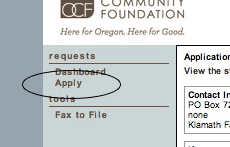 Gray Family Foundation electronically, you can login to your account and click "Apply" on the left menu bar.
If you have never applied electronically to the Gray Family Foundation, you will first need to set up contact information for your account.
Please note that there are several open application forms at any given time. You might need to scroll down in order to select the appropriate application form. 
What to do if you can't apply online:
Please apply for the grant electronically, if possible. If you are unable to submit the grant electronically, please call us to discuss ways to submit a paper application form.
Please contact Rana DeBey at the Gray Family Foundation, 503.944.2144, or grants@grayff.org with questions.