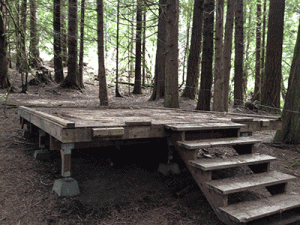 Download PDF -> 2018 CMF Request for Letters of Interest
John Gray identified the ongoing maintenance of Outdoor School camp facilities as a critical factor in preserving a full range of options for kids to get outside. Since 2014, a grant program established by the Gray Family Foundation has annually invested $455,000 directly into the improvement of existing facilities at Oregon's outdoor residential camps throughout the state.
The Gray Family Foundation works directly with Outdoor School organizations and their network of camps to identify those facilities that have maintenance and improvement needs, serve outdoor school, are geographically dispersed, and reflect the Gray Family Foundation's values regarding inclusion and multi-cultural diversity.
Up to $450,000 is available this year from Gray FF for projects that align closest with our goals and objectives. We will consider grant requests from $20,000-$50,000 per proposed project(s). The grant requires a 50% cash or in-kind match – one grantee dollar matching two Gray Family Foundation dollars. Gray FF is interested in reviewing requests for a range of funding levels that best serve the specific needs of the project.
The foundation will give priority to maintenance projects that seek to:
Improve facilities that serve outdoor school programs;
Improve facilities to better meet ADA requirements;
"Green" camp facilities;
Increase the energy efficiency of camp facilities;
Increase facility resiliency to local natural hazards; and
Improve stewardship and usability of the camp site.
The following elements are not required, but preference will be given to projects that demonstrate:
Dedicated staff and volunteer time;
Expertise in facilities maintenance and needs of outdoor school programs;
Willingness to host students, teachers, and parents from diverse communities and lifestyles;
Willingness to share best practices with peer grantee network; and
Commitment to hosting outdoor school programs or are actively working towards becoming a host site for outdoor school programming.
The foundation will not fund:
Capital projects for new construction
Purchase of additional property
Organizations who received funding the previous year
Deficit funding or elimination of operating deficits
Annual fund appeals or endowment funds
Religious activities
Grants or loans to individuals
Questions?  Please contact Rana DeBey at rdebey@grayff.org.
Download the Request for Letters of Interest above for current grant submission dates.